 ---
TEA TREE GULLY

SWIMMING CLUB

The Tea Tree Gully Swimming Club caters for swimmers of all abilities from beginners through to competitive swimmers at State level through the Tea Tree Gully Squad and associated Learn to Swim programs. The emphasis throughout is on excellence in swimming and stroke technique and at the same time encouraging the need for fun and family involvement.

The Club is affiliated with SwimmingSA and our swimmers are encouraged to participate in local, state and interstate carnivals appropriate to their individual levels of skill, participation, ambition and determination.

Tea Tree Gully Amateur Swimming Club Incorporated is a not-for-profit swimming club founded to teach the art and encourage the sport of swimming.

We urge all members and parents to extend the same enthusiasm and support as is willingly offered by our Coaches, Committee members and various officials towards the ongoing development and enjoyment of each of our swimmers.

From learn to swim through to competitive squads to Masters Swimming, TTGSC can assist you with finding the right swimming program at affordable prices.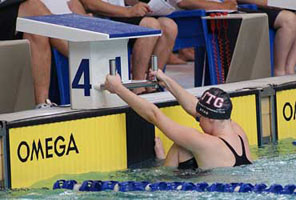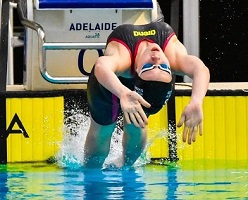 --- ---
VISION
Premier competitive swimming club in North East Adelaide
MISSION STATEMENT
Developing swimmers and creating athletes in a competitive and friendly environment.
Values
Strive to do your best
Water safety a must
Integrity through doing what is right
Mutual respect for each other
Make it Fun
Engage with our people
Results through teamwork
--- ---
TTGASC

HISTORY

In October 1969, a meeting was held in the Modbury Primary School to form the Tea Tree Gully Amateur Swimming Club. This was because no swimming club existed in Tea Tree Gully and a new Olympic pool had just been opened at Waterworld.

The Club trained at the Waterworld pool in the summer, and during the winter at the Strathmont Centre and Hampstead pools.

Mr Ray Riddell was the first club President and along with his daughter Davinia, former State swimming champion, coached the Club until 1973 when Barrie Scott took over.

In 1972 the first Open carnival of the Club was held at Waterworld directed by Kevin Bampton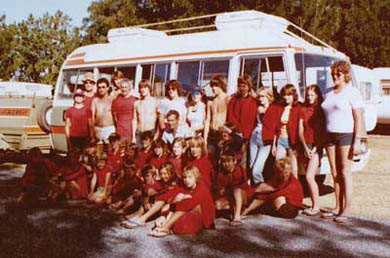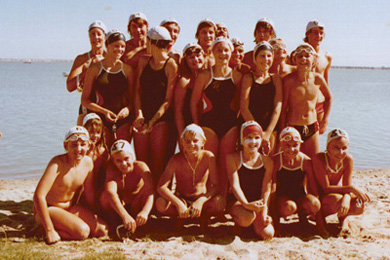 THE FIRST COMMITTEE

OF HISTORY

President
Vice President
Secretary
Treasurer
Committee
Learners Coach


Ray Ridell
G.Tonkin
Mrs. M. Gogilis
Mrs Williams
Kevin Bampton, Mrs. E. Bampton, Mrs P. Ribinskas, D.Ross, Ron Thompson
Ron Thompson
Some of the early swimming members of the club were Darrell and Michael Bampton, Andrew and Christina Scott, Geoffrey Beagley, David Ross, Peter McMurtrie, Annette and Sharon Stead, Sharon, Paul and Colin Thompson, Alan Kerrison, Vaughan, Astrid and Maree Van de Velde and Paul and Jane Ribinskas. Read about one of our Club Founders Barrie Scott or some Committee Members and Coaches Phil and Glenda Small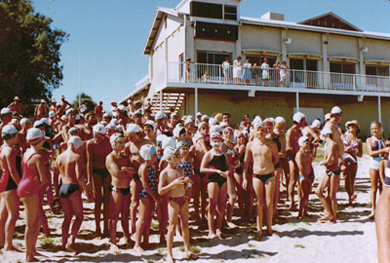 --- ---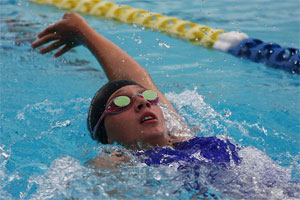 CLUB COMMITTEE: 2021-2022
| POSITION | NAME |
| --- | --- |
| President | Lisa Castelluzzo |
| Vice President | Clare Piercey |
| Secretary | Donna Sampson |
| Treasurer | Tony Castelluzzo |
| Registrar & Nominations | Clare Piercey |
| Members | Belinda Mentha, Craig Pruszinski, Diane Owen, Elise Ferris, Michelle Lawrence and Michelle Marshall |
| Member Protection Information Officer | Angelo Annetta |
--- ---
HOW TO JOIN
If you are interested in joining or trying out the club please contact the president or a coach (see Contacts Page) We will arrange for a free assessment for your child and they can swim for two weeks free as a try out period. After the come n try period has finished the swimmer will then need to become an official member of the club.

Note that swimmers graduating from Learn to Swim programs must be able to swim proficiently in Freestyle, Backstroke, Breaststroke and have the beginnings of Butterfly.


MEMBERSHIP AND REGISTRATION FEES
Membership and training fees are set by the committee. Accounts are distributed at the beginning of each term (quarterly) and can be paid by EFT or via direct debit. Contact the Club Treasurer (by treasurers email) for more details.

The swimming season runs from 1 October - 30 September of each year.
Please note that aside from the ANNUAL CLUB MEMBERSHIP FEE and SQUAD TRAINING FEES, there is also an additional annual SWIMMINGSA MEMBERSHIP FEE
Annual Club Membership Fee
The annual Club Membership fee is charged at the beginning of each club year and contributes to the following costs:

Building/property Insurance
Hire of facilities for Club events eg AGM, Club Champs, Long distance time trial
SwimmingSA affiliation fee
Website hosting
Trophies and medals
Printing/Photocopying for advertising
Incidental costs
For the following Club year, 1 Oct 2021 - 30 Sept 2022, the annual Club membership fees will be:

$100.00 for one swimmer
$173.00 for 2 swimmers
$228.00 for 3+ swimmers
Squad Training Fees
Training fees are set by the committee for each squad level

SwimmingSA Membership Fee
SwimmingSA require annual membership fees. Please see Swimming SA Fees and Charges for details.

Swimmers under the age of 18 years are required to have a parent or guardian become members of SwimmingSA
--- ---
ANNUAL TROPHIES

AND AWARDS

In October of each year the club conducts its Annual AGM and Presentation evening.

Open to all members, the presentation evening recognises the efforts of swimmers within the Tea Tree Gully Squad Swimming Program for the completed season.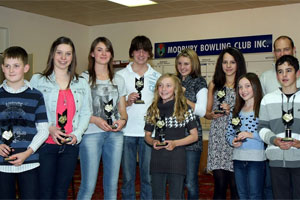 The Barrie Scott Trophy
Most Conscientious Senior Member
Awarded to the competitive swimmer who has the most points based on 1 point for attendance and participation at:
Each squad training session
Club Time Trial or special Club Time Trial as declared by the Committee
At an Open Carnival or other event or championship eg Swimming SA meets, State Championships
Coaches Awards
The Coaches award is presented to one swimmer in each squad who has achieved at a high level throughout the season as demonstrated by:
Conscientiousness
Improvement
Consistency
Attitude
The Penny Bristow Trophy
For the swimmer who has broken the most club records during the current swimming year.
Swimmer of the Year
The Swimmer of the Year is determined by the Management Committee in consultation with the coaching team and awarded to the competitive swimmer who overall has achieved at the highest level in the following areas:
Conscientiousness
Improvement
Consistency
Attitude
Most Improved Trophies
Trophies are awarded to swimmers who have achieved the largest percentage improvement in their performances over the season in the following categories:
Girls 12 & Under
Boys 12 & Under
Girls 13 & Over
Boys 13 & Over
Percentages are calculated on the fastest time swum for the current season against the fastest time swum the previous season. The fastest time swum the previous season is known as a swimmers base time. Swimmers without a base time will create a base time with their first swim for the season.

Prior to the 2008-2009 season, improvement was only measured at time trials and club events. Since 2008-2009, swimmers can achieve improvement in any event sanctioned by Swimming SA or TTG club event which includes time trials. SwimmingSA sanctioned events appear in the Handbook of Events.

To be eligible, swimmers must have:
Competed at the Club Championships; and
Attended at least 1/3rd of all compulsory training sessions (average of at least 1 session per week)
Note: Failure to comply with any of the above conditions will render any swimmer ineligible.
--- ---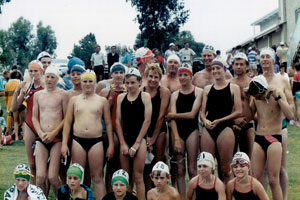 Life Members
YEAR
NAME
1972
Ray Ridell
1975
Kevin Bampton
1976
Ron Thompson, Barrie Scott
1977
Don Richards, Veronica Hewitt
1978
Maxine Scott
1979
Glenda Richards, Steve Warren, Darrell Bampton, Christina Scott, Andrew Scott
1982
Susan Hewitt, Dianne Hewitt, Justin Scott, Matthew Scott
1986
Kylie Harris, Steven Bristow
1988
Sharni Harris, Joanne Boyce
1993
Glenda Small
1998
Lyn Harris, Geoff Beagley
2001
Phil Small, Linda Nottage, Joan Ames
2003
Erica Ames, Damien Nottage, Alicia Small
2005/2006
James McCartney, Callum McCartney, Renee Smith, Tom Gilligan, Amanada Nottage
2007
Krystal Jones
2009
Rebecca Ryan
2011
Kevin Ryan
2015
Mark McCarthy
2018
Erin McGlashan
2020
Michelle Williams
2021
John Luscombe, Peter Smith, Brittany Castelluzzo, Lawson Nitschke
Service Awards
| YEAR | NAME |
| --- | --- |
| 1987 | Penny Bristow, Jim Harris |
| 1988 | Glenda Small |
| 1993 | Sue Chugg, Eithne Mayton |
| 1995 | Alicia Small |
| 1996 | Joan Ames, Linda Nottage |
| 1997 | Lyn Harris |
| 1998 | David Seyfang |
| 2001 | Erica Ames, Damien Nottage, Jan Isaacson, Julie Piro |
| 2006 | Anne Gilligan, Brenton Nottage, Jim MCCartney, Di Bessell, John Smith |
| 2007 | Steve Jones |
---