---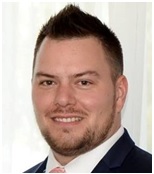 Lawrence Krauter – Head Coach
Tea Tree Gully Swimming Club welcomed Lawrence Krauter as Head Coach in January 2020. Lawrence has over 15 years of coaching experience and has coached athletes to success in Age/Open Nationals, Open Water Swimming, SWD and Triathlon.
Lawrence is an advanced level coach with a silver coaching license. He has previously coached as a head coach for clubs in South Australia and Victoria and has helped athletes achieve both SASI and VIS scholarships.
Lawrence began his journey coaching junior athletes whilst pursuing his own swimming career at the LeFevre Portside Swimming Club, he soon progressed to coaching age groupers. In 2009 he moved to Victoria to pursue a head coaching position where he developed both age and open swimmers and in 2012 was named head coach of the SWD Target London Development Squad.
Prior to joining Tea Tree Gully, Lawrence was the senior coach of the Playford Aquatic Club, who were twice named a Swimming SA Club of the Year in that time.
Interested in joining the Tea Tree Gully Swimming Club?
Please contact Lawrence:
ph: 0434268330
ASCTA Accredited Silver Licence Coach