 ---
ANNUAL TROPHIES

AND AWARDS

In October of each year the club conducts its Annual AGM and Presentation evening.

Open to all members, the presentation evening recognises the efforts of swimmers within the Tea Tree Gully Squad Swimming Program for the completed season.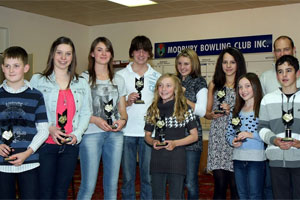 n
The Barrie Scott Trophy
Most Conscientious Senior Member
Awarded to the competitive swimmer who has the most points based on 1 point for attendance and participation at:
Each squad training session
Club Time Trial or special Club Time Trial as declared by the Committee
At an Open Carnival or other event or championship eg Swimming SA meets, State Championships
Coaches Awards
The Coaches award is presented to one swimmer in each squad who has achieved at a high level throughout the season as demonstrated by:
Conscientiousness
Improvement
Consistency
Attitude
The Penny Bristow Trophy
For the swimmer who has broken the most club records during the current swimming year.
Swimmer of the Year
The Swimmer of the Year is determined by the Management Committee in consultation with the coaching team and awarded to the competitive swimmer who overall has achieved at the highest level in the following areas:
Conscientiousness
Improvement
Consistency
Attitude
Most Improved Trophies
Trophies are awarded to swimmers who have achieved the largest percentage improvement in their performances over the season in the following categories:
Girls 12 & Under
Boys 12 & Under
Girls 13 & Over
Boys 13 & Over
Percentages are calculated on the fastest time swum for the current season against the fastest time swum the previous season. The fastest time swum the previous season is known as a swimmers base time. Swimmers without a base time will create a base time with their first swim for the season.

Prior to the 2008-2009 season, improvement was only measured at time trials and club events. Since 2008-2009, swimmers can achieve improvement in any event sanctioned by Swimming SA or TTG club event which includes time trials. SwimmingSA sanctioned events appear in the Handbook of Events.

To be eligible, swimmers must have:
Competed at the Club Championships; and
Attended at least 1/3rd of all compulsory training sessions (average of at least 1 session per week)
Note: Failure to comply with any of the above conditions will render any swimmer ineligible.