---
TEA TREE GULLY LEARNERS

(SWIM SCHOOL)

The Tea Tree Gully Learners operates from the School of Little Swimmers, 274 North East Road, Klemzig. Tea Tree Gully Learners is an AUSTSWIM™ accredited non-profit organisation that seeks to maintain an affordable fee structure. This is achieved through good financial management and the contribution of volunteers. The affordable fee structure enables children to learn to swim with high quality coaches and be involved in a well run local organisation.



Swimming lessons allow your child to develop:

Skills and confidence in swimming including stroke technique
Personal and interpersonal skills through involvement in a sporting activity
Fitness. This has positive implications for general health and well being of swimmers
Enjoyment of swimming recreationally and later as a competitive sport.

The Tea Tree Gully Learners is a learn to swim service provided by the Tea Tree Gully Amateur Swimming Club Inc. The Tea Tree Gully Learners is a great way for your child to learn the art of swimming whilst having fun in a family friendly environment.
As swimmers progress through the Learn to Swim Stages, they are encouraged to take swimming on as a sport and continue their swimming involvement through the Tea Tree Gully Amateur Swimming Club.

Swimming and Safety
Each year, almost 50 children under the age of 15 drown in Australia. Water safety is one reason why it's so important for children to be introduced to the water in a safe and positive environment and become competent swimmers. By supporting your child to learn to swim you are promoting their safety. They also receive many other benefits including improved health, coordination, fitness, learning capacity and a pathway to a great Australian sport. Although it has a cost for you to get them to lessons they will thank you for it when they grow older.

VENUE
School of Little Swimmers Pool - 274 North East Road, Klemzig

Saturday 2.00pm to 6.30pm
Sunday 2.30pm to 6.30pm
AGES
18 months and above


---
LEARNERS LEVELS



NORTON: 6mths to 2yrs (with parent)

Assisted safe entry and exit
Introduction of blowing bubbles
Assisted submersion
Assisted basic arm and leg movements
Assisted use of a floatation aid
Assisted float
Jump




PERKINS: 2 to 3yrs (with floaties - max 4 in class)

Safe entry and exit
Face in water, blowing bubbles
Kicking with a floatation aid
Star float on back
Kicking and Paddling (3m)
Jump, Paddle and Kick back to the wall
Submersion
Swim (paddle and kick) with no floats (3m)




FRASER: 3+ yrs (max 4 in class)

Slide in entry
Face in water blowing bubbles
Assisted kicking on front with board - face in water
Assisted back kick with board
Glide with board (3m)
Assisted Torpedo
Assisted floats
Submerge and retrieve an object




ROGERS: (max 4 in class)

Slide in entry
Kicking on front with board - face in water
Kicking on back with board
Torpedo (3m)
Front and back floats
Freestyle Arms (Torpedo with arms)
Assisted Sitting Dive
Retrieve object under water




KOWALSKI: (max 5 in class)

Slide in Entry
Backstroke Arms on the board
Freestyle Arms on board - introduce breathing
Sitting Dive
Sculling hand movement
Front and Back Floats
Duck dive and retrieve object




STOECKEL: (max 5 in class)

Slide in Entry
Freestyle
Backstroke
Assisted Kneeling Dive
Treading water leg action - with floatation aid
Duck dive and retrieve object




HUNTER: (max 6 in class)

Freestyle - Bilateral Breathing on board
Backstroke
Breaststroke kick on board
Kneeling Dive
Treading water - 30-60 seconds




COWDREY: (max 6 in class)

Freestyle with bilateral breathing - add distance
Backstroke
Breaststroke Kick and Arms
Assisted Crouch Dive
Butterfly Kick

Squad Training
After your child has successfully completed the learners program, your may consider to continue swimming with the development training squad.

The swim squads have swimmers at a range of levels and the club will always strive to reach each swimmers full potential. Interaction and transfer between squads will be encouraged and accommodated to suit family and swimmers needs.

---
Learner Program
Coaching
Our Coordinators and Learners Instructors have Austswim accreditation and Assistants have at least Bronze Medallion and Junior Instructor awards or equivalent. All of our coaching staff are bound by the Austswim Teachers Code of Behaviour.
---
Health Fund Benefits
BUPA and HCF
Tea Tree Gully Learners (Swim School) is an AUSTSWIM recognised swim centre. Therefore if you meet individual health funds (BUPA or HCF) terms and conditions you are eligible to claim back a portion of your child's learn to swim lesson fees.
---
Learn to Swim Awards
Swimmers receive skill certificates for completion of each of the 8 Learn to Swim Stages and encouragement awards during the year.

Although not members of the TTGASC, TTGLearner swimmers are invited to participate in internal Club Championships and other internal events such as the TTGASC presentation evening.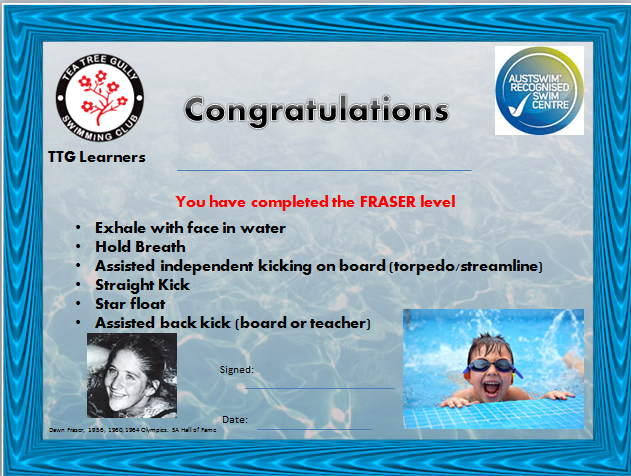 ---
Parent Participation
Parents are expected to volunteer their services to maintain the Learn to Swim Program and are required to help out as time keepers at Time Trials.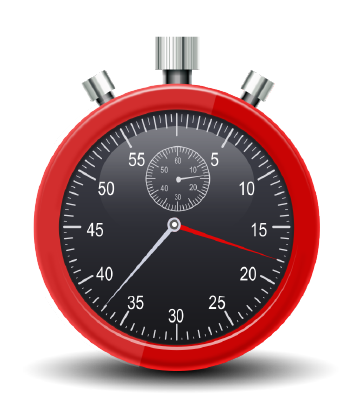 ---
Transition to TTGSC Development Squad
Swimmers who have competency in freestyle, backstroke, breaststroke and the basics of butterfly may continue their involvement in swimming for fitness or as a sport by joining the TTGASC.

The first two weeks of Squad Training for TTGLearners is complimentary. In addition to this, the fee for the first year of membership is waived for swimmers joining the TTGSC from TTG Learners. This is a saving of $110.00.
---
Feedback or Complaints
Feedback and informal complaints may be given to the Learners Coordinators.
---

---
HOW MUCH
Fees
The fees are set to maintain an affordable fee structure. The affordable fee structure enables children to learn to swim with high quality instructors.

Lesson fees are paid in advance by school term block. Payment methods include credit/debit card or by EFT.

There is no swimming on public holidays and during school holidays.
Current Fees
School of Little Swimmers pool

$15.50 per lesson
20% discount for 3rd, 4th and 5th child in same family
'Make-up Lesson' Policy
TTG Learners aims to provide make-up lessons where possible for missed lessons
Extra Lessons
If you're interested in your child progressing faster by swimming double lessons or having two lessons on separate days please talk to the TTG Learners Coordinator as there are some spaces available.